Lauryn Ostermaier
Project Coordinator
---
Give us a brief overview of your role with Saturn Power?
I work with Larry to help lead and coordinate the efforts of the land team and ensure all core tasks and accountabilities are fulfilled so that Saturn can develop viable green energy projects.
What is the most memorable moment you have had working at Saturn Power so far?
I have a few memorable moments ranging from making a coffee for a co-worker that included vinegar water (only a select few know what I'm talking about here) or looking out the window to find people driving over curbs and landing on parked cars in the parking lot at our old office. However, I have to say starting a new position during a pandemic takes the cake. The amount of support I received to allow me to quickly get up to speed with current projects, processes and market details was mind blowing and truly appreciated. Also, due to the virtual aspect, it's been quite the experience to learn the company culture and try to meet new coworkers. It's been a welcome challenge that solidifies I have made the right decision to become a member of the Saturn team.
This is your second stint with Saturn – what is an interesting difference between your first tenure and your second?
I was hired as an Administrative Assistant back in 2012. At that time, we were located in a small office in New Hamburg. It was an office of 5 (or so) staff with a few projects on the go, all specifically focused in the Ontario market. Fast forward to 2020, I'm back and have joined a team of over 50 employees located throughout Canada, the US and overseas. I came back to a company that has grown from focusing on one market to multiple. We are becoming a fierce competitor as the days and weeks go on and yet, one thing has remained consistent; we have managed to maintain that tight knit family atmosphere that we all truly appreciate. I look forward to seeing what the next 5 years will bring!
What was the title of the last book you read?
The title of the last book I read was "The Subtle Art of Not Giving a…"… I'll let you fill in the blank. It was a great book that reminds you that everyone is flawed and limited in some way but strongly reiterates that you only have one life to live so make the best of it. It's a real talk style of book with hilarious stories that somehow or another tie in life lessons. It's meant to open your eyes to get us to lead a more balanced life. I also like to mix in a bit of Robert Munsch or Diary of a Wimpy Kid to shake things up a bit (…thanks to my kids).
What's a favourite place you've travelled to?
I've been on some great trips that have left me with great memories (or lack thereof), but I have to admit, the best of them all was taking my kids to Disney World. Seeing their faces light up, day in and day out, was absolutely magical. It was an experience that is still talked about to this very day and an experience we were able to share with their grandparents.
When you're not working, what do you do with your spare time?
I have always spent my summers at our cottage. You'll find me at the beach, on the patio enjoying a few beverages or boating around Lake Erie trying to show off my fishing skills to anyone who will pay attention. Pre-Covid, I enjoyed being part of the Dragon Boat fun league in my town and is something I hope to pick up again once restrictions allow.  I'm always on the hunt for a good ice cream cone so you'll find me touring around looking for a little mom and pop shop that offers HUGE scoops of Chocolate Peanut Butter ice cream. In the winter, you can find me at the arena cheering on my son's hockey team or at the barn watching my daughter during her horseback riding lessons.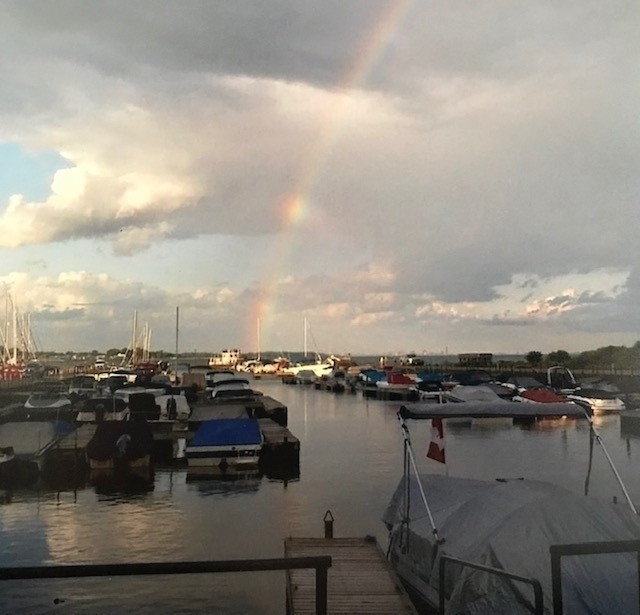 If you could only get delivery from one local food joint for the next 3 months what spot and meal are you picking?
I enjoy a good chicken wing and pizza combo so I'd have to choose Aneta's Pizzeria in Ridgeway. It's a small pizza place that we religiously go to during the summer months. They make the best pizza and the most delicious wings you could ask for. The right amount of toppings and the right amount of sauce makes for the most mouth-watering meal!