Highfield Solar Project
RM of Coulee, Saskatchewan
---
The Highfield Solar Energy Project will be the first utility-scale Solar PV project in Saskatchewan.  This 10MWac solar energy project is located 42km southeast of Swift Current on approximately 70acres of land within the northwest side of the quarter section (NW-34-13-11-W3M).  When completed, this project will have the capacity to produce enough electricity every year to offset the consumption of 2,000 average homes.
Saturn Power was selected through a competitive bid process run by SaskPower to develop, own and operate this Project.  We are looking forward to starting construction of this project in 2020 to help diversify SaskPower's generation mix and contribute more renewable energy to the local grid.
The project will be located at the SouthEast corner of Township Rd 140 and Provincial Road No 628 (Range Road 3113), in the Rural Municipality of Coulee.
---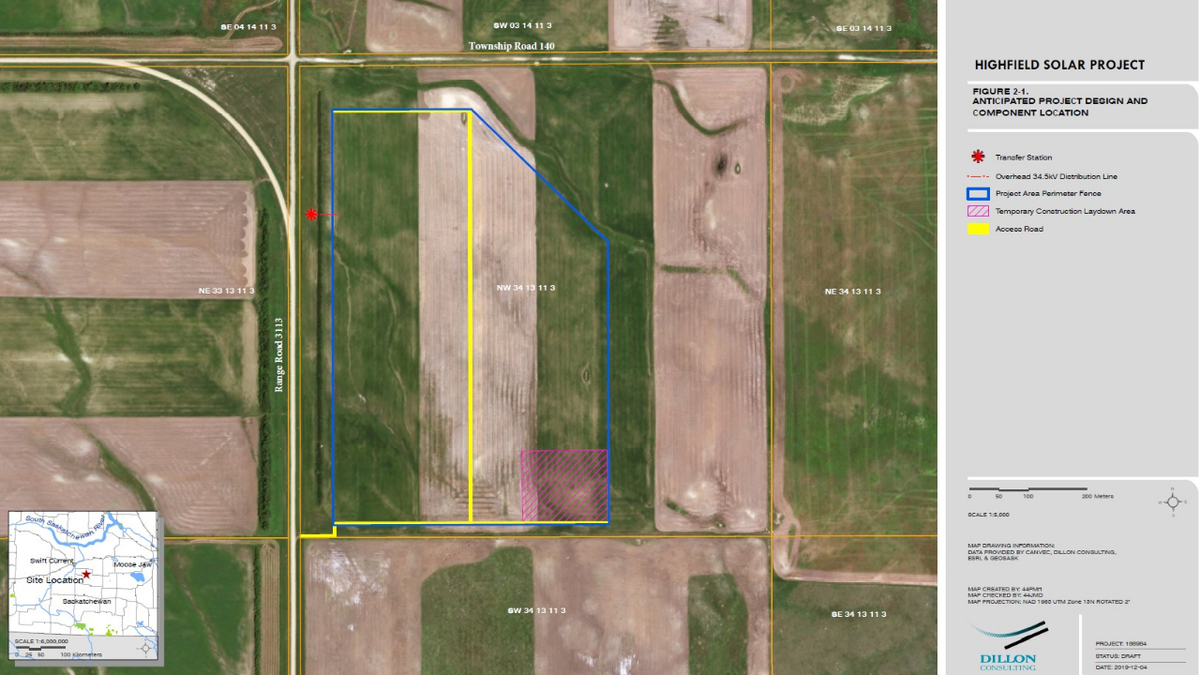 ---
Highfield Solar Ribbon Cutting Event
SaskPower and Saturn Power are pleased to announce the 10-megawatt (MW) Highfield Solar Facility is now online. The facility, located in the Rural Municipality (RM) of Coulee near Swift Current, is generating enough clean, renewable power for about 2,500 Saskatchewan homes.
SaskPower, along with representatives from Saturn Power and miEnergy, officially opened the facility on Friday October 8th with a ribbon cutting ceremony that also included representatives from the RM of Coulee.
Highfield is the first of four 10-MW ac solar power facilities set to be added to the province's grid by 2022. These, along with 20 MW of generating capacity through the Power Generation Partner Program, will help SaskPower meet its commitment to add 60 MW of solar power in the coming years.
"The commissioning of this facility is a landmark achievement for renewable power in Saskatchewan," said Don Morgan, Minister Responsible for SaskPower. "SaskPower is set to exceed its emissions reduction targets, and renewables such as solar are an important part of a balanced approach that will allow our province to achieve net-zero emissions from power production by 2050."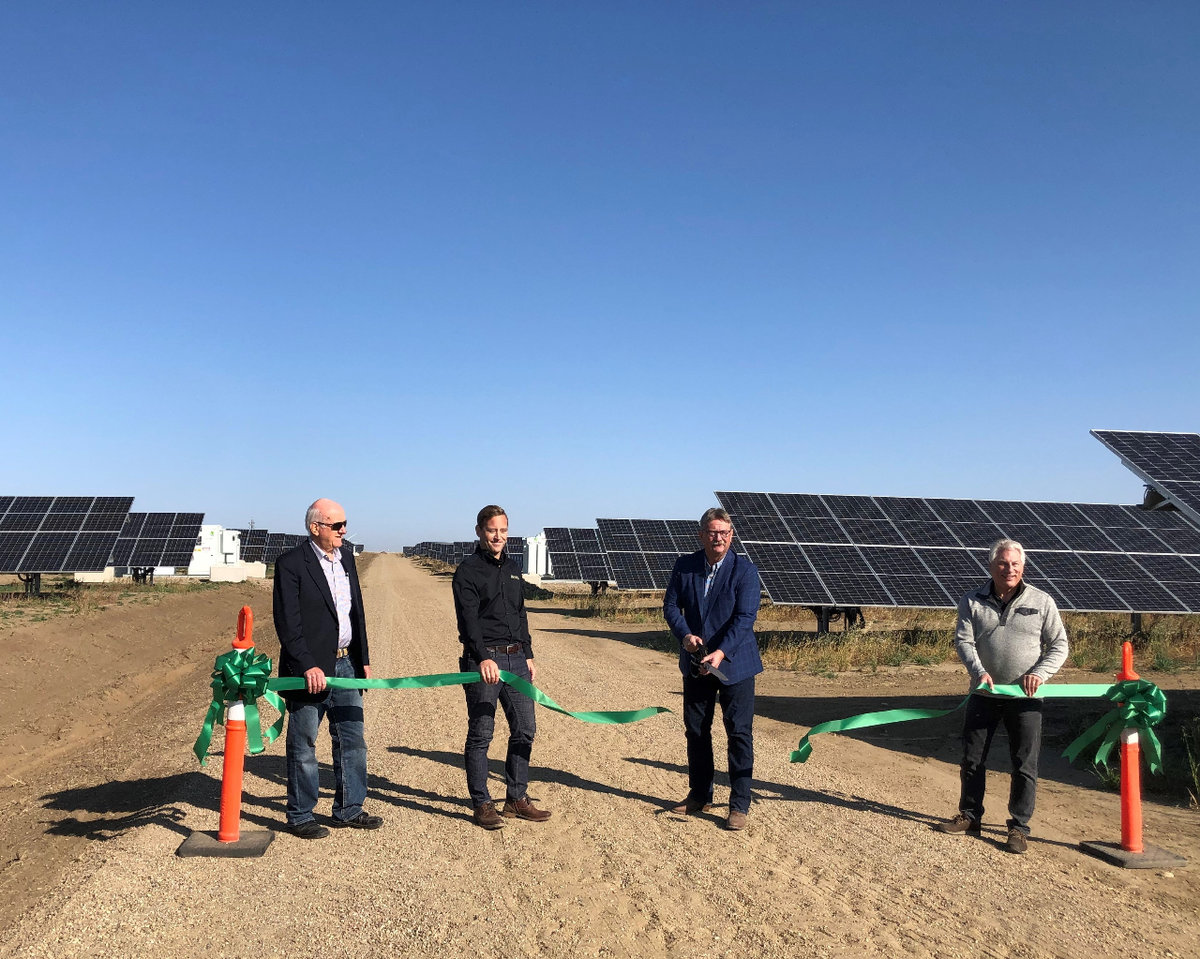 "It has been a great privilege for Saturn Power to be able to develop, construct and operate Saskatchewan's first Utility Scale PV Solar project." said Doug Wagner, President and CEO, Saturn Power. "Through the hard work of our team and the collaborative relationships built and fostered with both SaskPower and miEnergy, we were able to build a project that will serve as a foundation in Saskatchewan's efforts to develop a more sustainable and renewable power supply for decades to come."
"SaskPower welcomes this new facility into its renewable portfolio," said Kory Hayko, Vice President of Transmission and Industrial Services at SaskPower. "The Highfield Solar Facility is an important step in ensuring a cleaner and more sustainable power future."
Saturn Power, an independent power producer based in Ontario, developed the Highfield Solar facility and built the project in consultation with local Saskatchewan contractor miEnergy. Saturn Power will own and operate the facility while selling SaskPower the power produced.
---
Highfield Site Photos
The following are a few photos taken on the Highfield project site over the last few months to show the progress.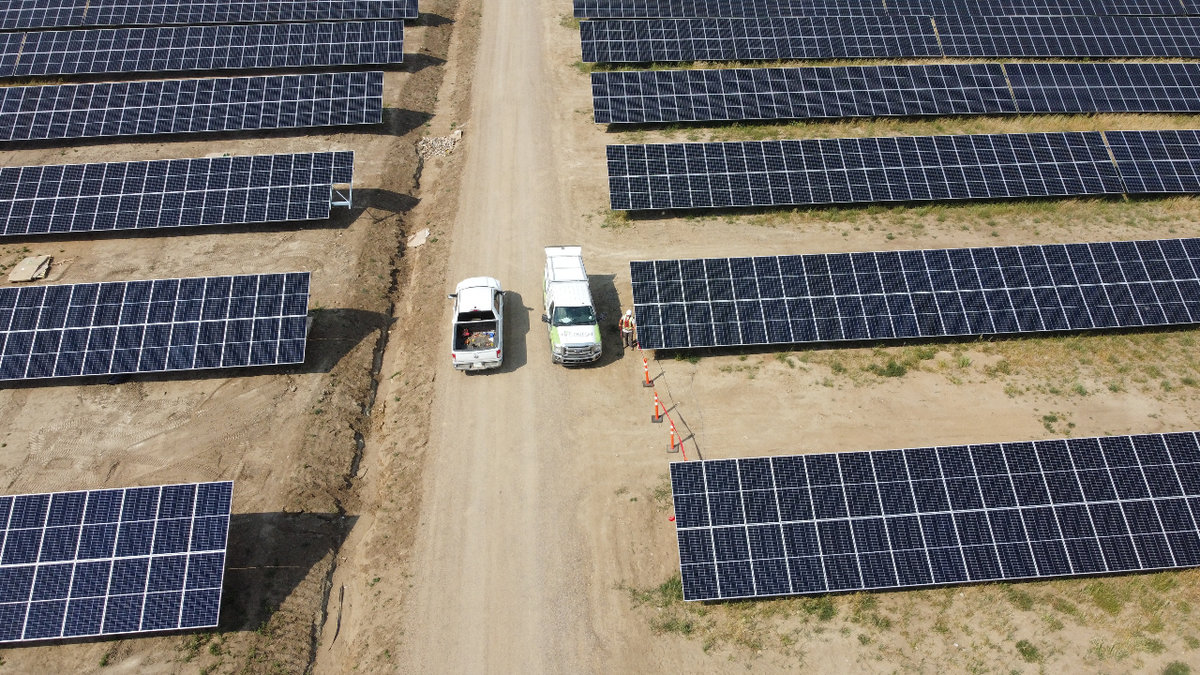 Photo Credits: Ryan Hornung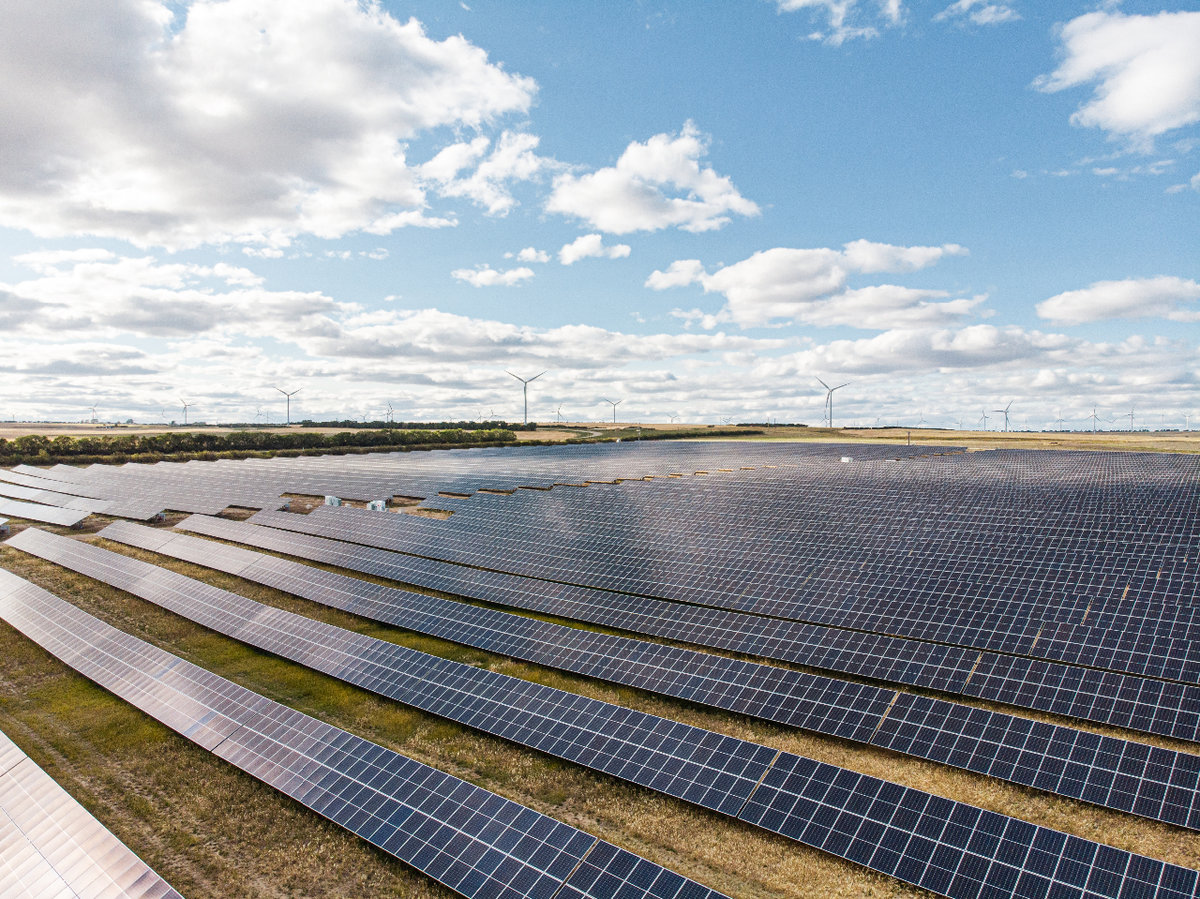 Photo Credits: Sask Power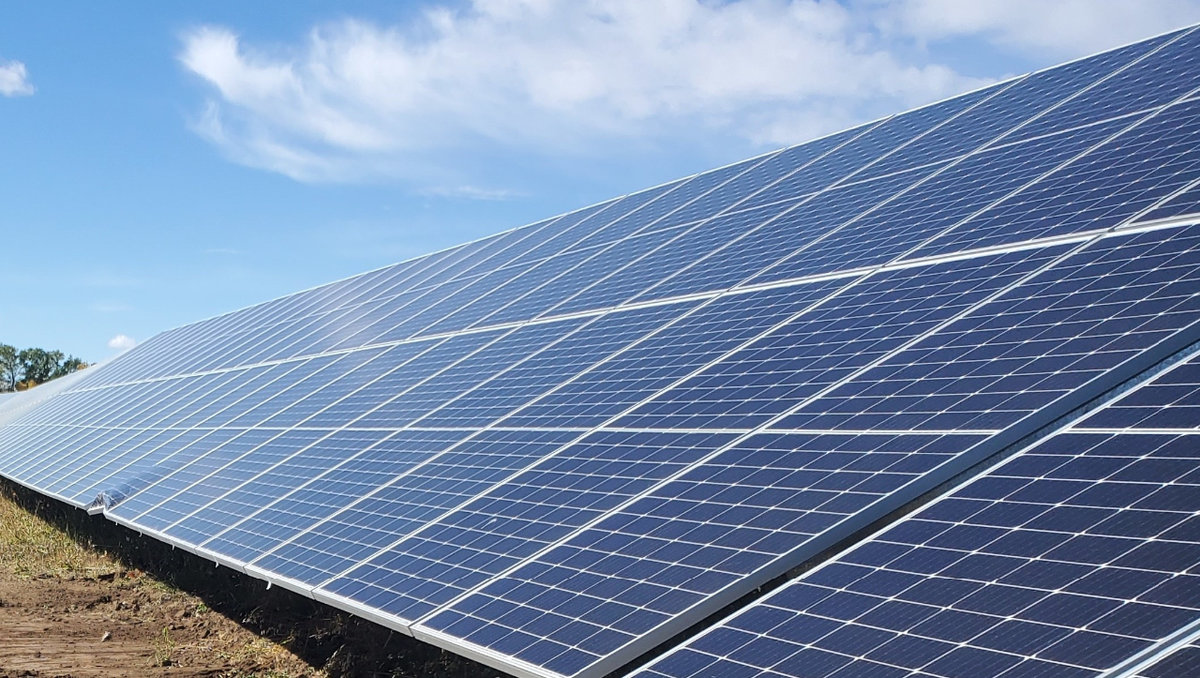 Photo Credits: Ryan Hornung
---
Quarterly Newsletters
Please follow the links below to see updates noted in our Quarterly Newsletters:
Quarterly Newsletter #1 (March 2019)
Quarterly Newsletter #2 (December 2019)
Quarterly Newsletter #3 (January 2020)
Quarterly Newsletter #4 (August 2020)
Quarterly Newsletter #5 (November 2020)
Quarterly Newsletter #6 (August 2021)
---
Community Open House
At Saturn Power, we believe in the importance of involving the community and receiving feedback from all stakeholders.  Our team has hosted two public open houses for the Highfield Solar Project to inform the public, collect feedback, and answer any questions or concerns.
Our First Open House took place in March 2019, and we had a second Open House in February 2020.  Please follow the links below to see the exhibit poster boards that were shared.
Highfield Open House #1: Poster Boards - March 2019 
Highfield Open House #2: Boards 1-4 & Boards 5-8 – February 2020 
---
Saskatchewan Ministry Of Environment – Technical Project Proposal
The Highfield Project is subject to the Saskatchewan Environmental Assessment Act (1980a), should it be deemed a development by the Saskatchewan Ministry of Environment's Environmental Assessment Branch (SK EAB).
As commercial solar energy projects are a new type of development in Saskatchewan, Saturn Power engaged environmental consultant Dillon Consulting to prepare a Technical Project Proposal for the review of SK EAB, to screen against the six triggers that may require a project to undergo an Environmental Assessment under the Saskatchewan Environmental Assessment Act.
The scope of the Technical Proposal included describing the physical and biological environment and social context of the Project Area, and the potential effects of the Project on those components in accordance with the Technical Proposal Guidelines (Government of Saskatchewan 2014).
The site was found to have negligible impacts and was therefore deemed not a development by the Saskatchewan Ministry of Environment. As a result, no further Environmental Assessment is required.
---
Frequently Asked Questions
Saturn wants to make sure you have the answers to all your questions regarding the Highfield Solar Project.
Please click on the link below to open our Frequently Asked Questions Page.  If you have any further questions, please do not hesitate to contact us at highfield.solarproject@saturnpower.com
---
Questions or Comments??
We invite you to contact us. We want to ensure this project will provide an ongoing benefit to your community. The development of this project is greatly enhanced through local engagement. E-mail us at highfield.solarproject@saturnpower.com